Presents
Ronjalee Rock A Fella To Sandti JW, ShCM.
2 CC's & 5 RCC's
Sire:CH Tesoro De Ria Vela For Thornywait JW (ESP Imp)
Dam: Ronjalee Rich Chic JW
Whelped: 4th Sept 2011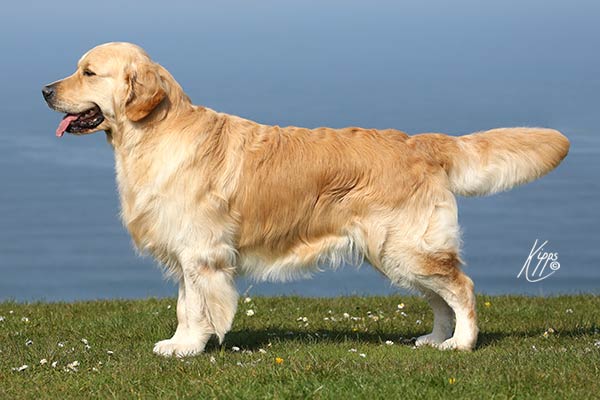 Achievements:
2 CC's Winner
5 RCC's.
Junior Warrant Winner & Stud Book Number (at 13 months).
Show Certificate Of Merit
Championship Shows
CC Winner
Reserve Best In Show Winner
Best Opposite Sex Winner
5 x RCC
1st Prize Winner .
CRUFTS 2014 1st Prize Winner
Best Puppy Dog
Open Shows
2 x Best in Show Winner
Gundog Group 1
Best Of Breed
Best Puppy in Breed,Puppy Group 1 and Best Puppy In Show Winner
GRCS Best Puppy In Show.
Show Certificate Of Merit
Limit Shows
Best of Breed Winner.
Bronze Good Citizen Award Winner.
Some of Rio's critiques:
"A 5 years mid gold boy presented in the peak on condition, in my opinion one of the nicest heads I saw all day, so typical with a lovely dark eye, with a melting expression. Super front angulation with excellent layback of shoulders & hindquaterts to match. He is well ribbed, short coupled & has a level topline & correct tailset. Totally free from any exaggeration he is balanced with a capital B. He moved out with drive & precision. He may not as glamorous as some, but then again when did glamorous get written into the breed standard ? I was delighted to award him the CC & I understand that this is second. I sincerely hope the 3rd is not too long coming."

Cheryl Bawden, ECGRC 2016
"Neat short coupled boy, compact mature body in gleaming golden coat. Well angulated front & rear giving balanced outline & level topline. Lovely typical head with good dark eye & soft expression. Well shown & handled. His movement & drive won him the RCC in strong competition."
Pat Tuck , East Of England Champ Show 2016
"Has a masculine head but gentle expression, strong muscular neck, topline sound & level with good
depth, ribs deep, well sprung, well bent stifles strong & muscular, he was very strong to handle at times for owner but it just shows how sound & hard condition he is when he was on the move, well presented in excellent coat & condition, a pleasure to award him the CC".
Mr D. Taylor (Olyjen), NWGRC Champ Show 2016
"A super mid gold dog in full coat, well muscled throughout, appealing head with super expression, good reach of neck, nice forechest, good depth of chest, well set in elbows, level topline & short coupled, lovely rearquarters with well let down hocks, moved with purpose, delighted to award him RCC".
Mr A Scott (Largymore), Yorkshire GRC Champ Show 2016

"Took my eye as soon as came into the ring. Strong attractive head. Dark eye. Beautiful expression. Excellent straight front with good upper arm. Strong neck. Good level topline. Well bodied. Good angulation. Moved soundly with a good powerful drive. Lovely long & free front action. Could not ignore him. Had to go BEST IN SHOW".
Mrs Leigh Morris (Crosscop), Perth Open Show 2015
"Lovely well balanced boy with excellent front & back angulation. Nice short coupled body. Lovely straight hocks. Excellent topline & tailset. A good deep ribcage. Presented well & moved with power".
Bruno Facq, Border Union Champ Show 2014
"Took my eye as soon as he entered the ring & didn't disappoint. Beautiful masculine head & soft expression. Lovely straight front. Good reach of neck. Correct angulation both front & rear. Good depth of body & spring of rib. Moved with drive. Was pleased to award him the RCC".
Sarah Wood (Bresharo), NWGR Champ Show 2014
"Very appealing well presented mid gold with attractive pale feathering. Masculine head with dark eye, well boned, balanced in body with a clean neck well set into correctly angled shoulder. Deep & well ribbed with a level topline & short couplings. Strong backend, let down hocks giving strong movement".
Mrs J L Barrow, CRUFTS 2014
"Was so impressed by this super dog. Lovely head & expression, correct front, good feet, good reach of neck, correct shoulders and upper arm, short coupled, mature body, very good stifles & hocks. In perfect coat & condition, moves so well. So very close to top honours. RCC".
Lyn Anderson , Driffield Champ Show 2013
"Mid gold dog in super coat & condition, took my eye as he came into the ring. Balanced head with a soft expression, strong neck leading to correct lay of shoulders, strong rear quarters which showed when moved straight & true. RCC".
Martin Greenwood (Telkaro), Border Union Champ Show 2013
"Mature male in full coat, beautifully presented, masculine head, kind eye, well set on ears, well placed shoulders, with good length of upper arm, straight front, deep body, short coupled with good bone, well angulated rear with strong hocks, moved out well."
Derek Taylor (Olyjen), National Gundog Champ Show 2013
"Lovely young of quality, fabulous head and expression and displaying a lovely balanced picture, has a real presence about him, very nicely constructed all through, excellent presentation and very stylish on the move, very well handled"
George Hennessy, Paignton Champ Show 2013
"Eye-catching young dog with lovely masculine head and expression, dark eye, strong neck of good length leading into well laid shoulders.Short level topline, deep body with good spring of ribs, good rear quarters, moved well both ways".
Bernard Catterall, GRCN Champ Show 2013
"Another pale boy with a super head, good length of neck into well laid shoulders, level top line which he kept on the move. Well presented and handled".
Tony Hird, NWGRC Champ Show 2012.
"Pale gold dog, soft masculine head with an appealing expression, good dark pigmentation, well angulated, good feet, well bent stifles, in good coat for his age, moved well".
David Hutchison, SKC Champ Show 2012
"Pale golden boy,loved his head and expression, good pigment. Straight front with correct upper arm into well laid back shoulders. Level top line which he held on the move. Well angulated rear, short coupled giving balanced outline. In lovely coat and condition. Best mover in the class".
Betty Hird, Border Union Champ Show 2012.
Pedigree

Parents
GrandParents
GreatGrandParents

SIRE

CH Tesoro De Ria Vela For Thornywait JW

3CC's

Hips 5:7

Multi CH Ritzilyn

Rick O'Shay

SH CH Ritzilyn Brandon

Hips 6:5

SH CH Pearlbarn Periwinkle for Ritzilyn JW
Esp CH Sailor Moon De Ria Vela
Multi CH Paudell Pure Passion
CH & Trialer Timanfayer De Ria Vela

DAM

Ronjalee Rich Chic JW

1 RCC

Swedish Champion Floprym Rivaldo

Hips : A

Swe/Nor CH Inassicas Snow Storm
Swe/Nor CH Floprym Y Hazel Nut
Ronjalee Royal Lace JW

1CC & 3 RCC

Hips 9:6

SH CH Ronjalee Rag Trade JW

Ronjalee Ruby Tuesday